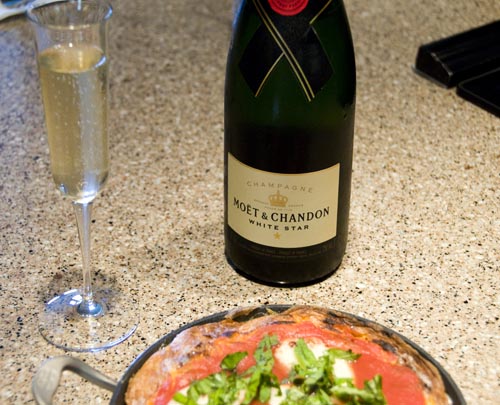 Champagne and Eggs: Unbeatable
Egg dishes can make for a difficult wine pairing, especially those that do not contain a lot of spice like mushroom omelets. But think back to your favorite brunch spot, remember what drink seemed to be flowing, and you may recall the standard Mimosa. Then the glasses of Champagne also come to mind, flying to the tables on delicately balanced trays.

Yep, we're programmed. Eggs and bubbly are just meant to be...
Chilean Cabs: Reasonable & Delicious
For the past decade or longer, Chile has continued to perfect their red wines to world-class standing. The Wine Spectator ratings for many Chilean wines have consistently been in the mid 80's-90's, while pricing remains attractive.

Costco offers an excellent Cabernet Sauvignon from wine maker Aurelio Montes, on a fairly consistent basis; that is a great buy in the $15-$18 range. It is one of this winery's...
Heitz and Roses
If you can get your hands on this interesting Napa Valley wine, it will change your impression of the capabilities of the Napa wine growing region forever. This is because Heitz Wine Cellars has access to a vineyard that has been planting Grignolino, a relatively unknown Italian varietal, since the 1950s.

Heitz is most known for their big Napa cabernet, so this is a very different selection for them. Grignolino is a native to Italy's...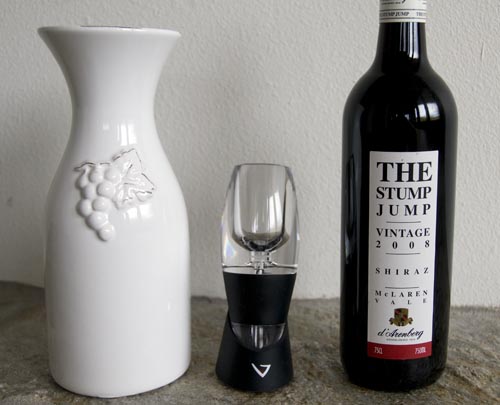 A Little Air Works Wonders
Normally, wine and air don't mix. The oxygen in the air can ruin a good bottle of wine in a day or two, making it tasteless or just plain crappy. However, for a young inexpensive wine, added air can noticeably improve the taste. But what we've got here is more than the familiar "let it breathe".

Over the past several years, many tasting room servers have been seen pouring wine from the bottle, through a little glass gadget, and into the glass. They do it so quickly that...
American Sangiovese: Not So Easy
North American Sangiovese's are not always a quick pick at wine outlets. Often these are relegated to the "other reds" section of the wine store and many people have to get sales assistance just to locate the right shelf.

There are many reasons for this, but the most plausible is just the relatively low amount of American acreage that gets devoted to the Sangiovese grape. So every time these get popular, they tend to vanish...
"They're Here": It's L'Ecole
When the family "cats and dogs" show up "on holiday" (as they say in the U.K.), why not serve something that goes well with just about everything on the grill? Not too heavy, not too tart, not too "catty", and not too wimpy, L'Ecole (French for The School) Cabernet from Walla Walla Washington is just the ticket.

You can serve this wine with just about everything, except fish and seafood, and rarely receive a negative comment. It's just...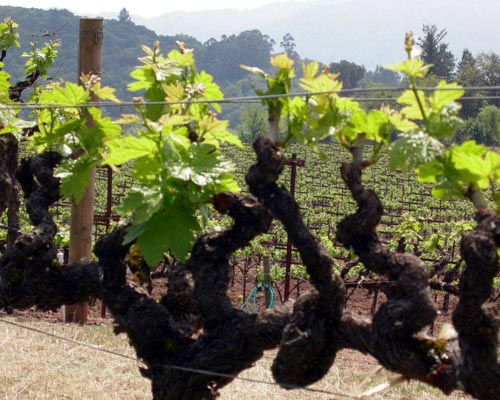 Zinfandel Blends for an Interesting Effect
Many who have experienced a good Zinfandel will attest to the fact that "Zin" is at its best when it's chasing after a big plate of barbequed whatever. But drink a Zinfandel by itself or with non-barbeque entrée, then the big jammy finish, spiciness, and alcohol heat can be a little much.

So unless you are a "Zin hound", the Zin rack is usually left alone except for when the ribs, hamburgers, or pulled pork are on the menu. Of course, our California producers...
Wine Club Shipments to Arizona
Here in Arizona it is possible to regularly receive direct shipments from both in-state and out-of-state wineries. Over the past 20 years or so, changes in state laws have made it easier for wine club members to receive these shipments without involving a liquor distributor.

However, the law creates differences in the way each winery can ship directly to Arizona consumers. Generally, the best approach is to have the winery address this issue...
Titus Cab Franc: Napa '07 is right there
There's a lot to look forward to as the Napa Valley 2007 red wines continue to unfold their "true colors" to buyers, much to their tasting delight. Sure, there will be some duds, but the wines based on the red Bordeaux varietals (Cabernet Sauvignon, Cabernet Franc, Petit Verdot, Merlot) are really looking fantastic.

One way to get a hint of what the 2007 "good stuff" will be like is to sample one of the lesser known vintners who owns vineyard...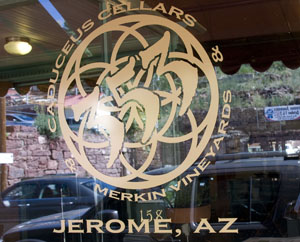 Wine Tour Jerome: Cadecus Cellars
During the past several years, something has changed in Jerome, Az. to make the visit that much enjoyable for wine lovers. Yep, you guessed it, wine tasting and winery-direct to boot! Now you can skip the brew and taste the grape in our not so deserted ghost town.

One of these is just down Main Street (158 Main) from a popular biker gathering spot, Caduceus Cellars and Merkin Vineyards' "high altitude" tasting room provides...
Wine Tour Jerome: Jerome Winery
Walking up the hill, via the concrete staircase from Main Street, catch your breath and check out the Jerome Winery (403 Clark St). The view is even better from up here and the wine selection is sure to delight.

Because the Jerome Winery features single-varietal selections, this is the perfect opportunity to compare straight flavors from fruit cultivated in Cochise County, near Wilcox, Arizona. These wines are not as highly distributed as...
Wine Tour Jerome: Bitter Creek Winery
Located in a spacious room along with a fabulous art gallery and boutique, the Bitter Creek Winery tasting room is the perfect setting to browse. Look not only at the art and other items, but also at the artistically appointed wine bottles carefully racked up on the wall behind the bar.

From the ample view of the Verde Valley on one side to the shot of Jerome on the other, this whole thing is what tourists really enjoy. You can find it just down the hill (240 Hull Avenue) via sidewalk, no stairs, from Main Street in a...
Put a Wolf in the Cellar
Throughout the year most bottle shops have certain wines that go on sale and then tend to vanish. If you've tried them and like what you taste, they can be really good buys. But there are others that get selected for the "standard restocking cycle" and those are always available at the store to pick up.

Many of these are very consistent performers that can be counted on to deliver every time. One of the most noticeable brands...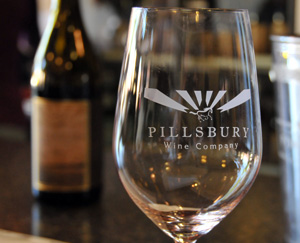 Wine Tour Cottonwood: Pillsbury Wine
Nope, no "dough boys" on North Main Street in Old Town Cottonwood, but there is plenty of wine tasting. With more wineries adding tasting rooms every year, the attraction of the old town just keeps getting better.

In the Pillsbury Wine Company's well-appointed tasting room that opened in 2010, there is something on the list for everyone. This includes Southeast Arizona wines made from single varietals and blends of reds and...
Wine Tour Cottonwood: AZ Stronghold
Arizona Stronghold is one of the more widely distributed of the S.E. Arizona vintners. Their labels, with the red flaming sun, are familiar to many who shop Whole Foods or AJs. As a bonus to the fine bar, their Old Town Cottonwood tasting room is full of things to admire. The walls are covered with Arizona art, and of course, the racks are full of great wines to sample.

Because of the wide variety of wines...
Wine tour Cottonwood: Alcantara
Take a large swath of volcanically-coated Verde Valley land near two flowing bodies of water, with a deep rock underlayment of limestone, add irrigation, plant grapes, work really hard, spend beaucoup bucks, and you have conditions that "a French winemaker would die for", says owner Barbara Predmore. This is Alacantara Vineyards.

Situated at the end of a dirt road that is accessed off Route 260 between...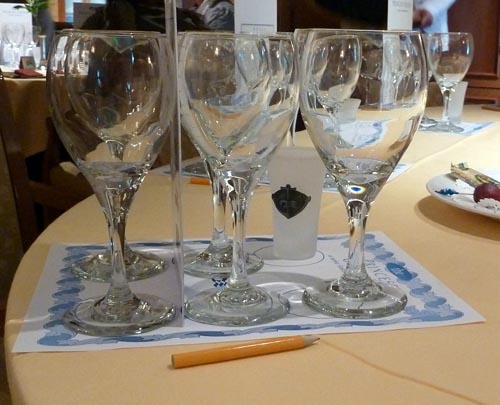 When the good stuff's in your glass
This season, it is quite possible that many of us will be honored with the opportunity to taste an "expensive" wine, courtesy of friends and family. When this happens it's tempting to assume an attitude of indifference by thinking "I can't really appreciate this anyway" or "I could never afford this no matter how good it tastes". But don't! There are other options.

If someone offers you glass of expensive wine, be glad, and enjoy it with an open mind...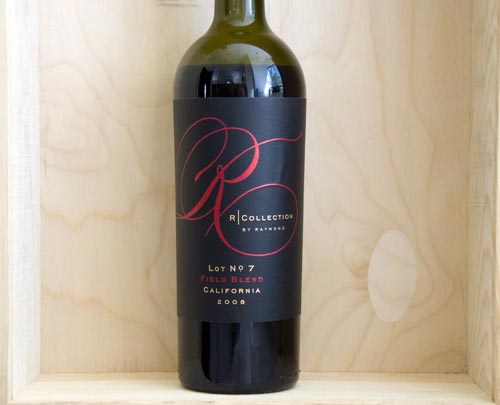 Wine specials: Plenty to pick from
With most of the bottle shops running their seasonal specials, now the browsing for new creations and vintage years begins. Time to add some welcome additions to our own racks! It's hard work, sure. But browse and haul we must.

In a continuation of last season's non-inflationary trend, reasonably-priced offerings abound with many good ones in the $15 range. Never to be left behind, AJs has been hard at work putting together numerous interesting...
Chardonnay from the Livermore Valley
When you think of Livermore, California, what comes to mind? High-tech atom-smashing laboratories? Quantum physics? Microcircuits? Wine? If you picked the last choice, you're in luck, because there is always a Livermore Valley wine just around the corner at Fry's and other wine shops.

Livermore's Wente Vineyards' 2009 "Morning Fog" Chardonnay, ($14.99 at Fry's) possesses a unique flavor combination that...
Wine tour Cornville: Oak Creek
As more vineyards become established in the Verde Valley, the practicality of devoting an entire day exclusively to tasting wine at actual estate wineries is here. Just pick from the wide variety of hotels in the Verde Valley to spend the night and taste wine from 10am to 6pm!

It's an easy route. Just off Interstate 10 at exit 287 in the Verde Valley, follow the map to North Page Springs Road and there are 3 wineries located within about a mile of each other...