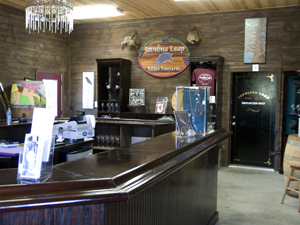 Wine tour Cornville: Javelina Leap
First there was Stag's Leap, then there was Frog's Leap, and now we have Javelina Leap. All that leaping could drive one to drink! You betcha'. Fortunately, this leap is just up the road in the Verde Valley, no plane ticket, just a ride in the car.

Cornville's third winery along North Page Springs road is the smallest of the lot with just 10 acres under cultivation at the estate. Rod Snapp (owner) provides a...
Caiden's Vineyards: "Block Nine" Pinot
One of the trends recently noted by West Coast winemakers is that the consistently high demand for Pinot Noir is finally being matched by increased production of wines from this varietal. Much to a wine drinker's delight, the result is lower prices and higher quality for Pinots. The days of being forced to shell out over $40 for a decent bottle of Pinot may be behind us, at least for awhile.

Looking to capitalize on this trend, winemaker Larry Levin is relying on his...
Keeping opened wine fresh
Can't finish a bottle in one sitting? Have a bunch of partial bottles left over from a tasting party? Unfortunately, you can't just put the corks back in and expect the wine to be as good later as it is right now.

This is because exposure to oxygen in the air can ruin wine in a day. Oxygen quickly combines with many of the ingredients in wine that provide flavor, effectively destroying (oxidizing) them. People in the winery business are keenly aware...
A Riesling: A taste held in balance
When it comes to Rieslings, most people think one thing, sweet. They remind of after-dinner wines quaffed along with dessert or sweet seasonal wines served in little glasses with Sorbet between dinner courses. But truly good Rieslings have a lot more to say. Think about it, it has been a favorite banquet wine in Germany for centuries. So there must be more to it.

And indeed there is. There are many who believe that Riesling is the ultimate...
A Cabernet from Bird Land
If you're searching for a red wine that your "birds" will love, take a good look at Duckhorn Wine Company's red blend "Decoy" Cabernet Sauvignon release. It is in general distribution and this season's sales are showing excellent pricing at about $25/bottle.

When the affordable Decoy label came out about 20 years ago, it was well-received by those who like Duckhorn wines as a value option to their more pricy high-end lineup...
Created to impress: Shafer One Point 5
Located along an interesting west-facing slope and alluvial plain toward the south end of Napa valley, Shafer Vineyards has access to a wide variety of soils and terrain. Most plantings are set within a short distance of the winery.

This makes for a wine blenders dream and the taste of the end product takes complete advantage of it. It is in this unusual transition area between the Stags Leap and the Rutherford districts that Shafer's flavors...
Syrah from the Rhone Valley: Côte Rôtie
For those of us "Syrah Hounds" who really like to sample what the world has to offer, there is always a spot or two reserved on the rack for a powerful French Syrah creation from the Côte Rôtie Appellation. Known for a variety of big red wines that are just simply in-your-face, this region produces consistent vintages that are appealing to people around the world.

Because of their relatively low production, wines from this region make it here...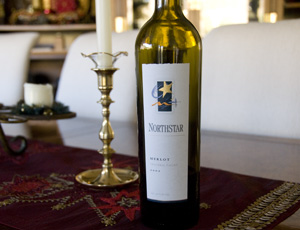 Northstar Merlot: Perfect with Roasts
One of the best entrees for large gatherings is the classic beef roast. No matter what the cut, if it has been broiled or roasted, the flavors are unbeatable. Picking a wine that is goes along with it can be tricky because many cabernet sauvignons are a little too big and bold for beef that has been slow cooked.

But believe it or not, one of the best wine varietals to pair with roast beef is Merlot. Sure, many Merlots lack the character...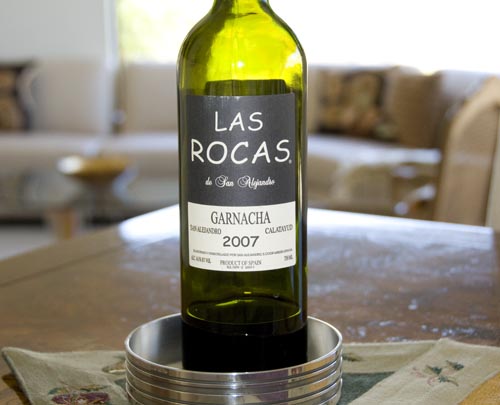 Spanish Wine of Calatayud
Spain is considered by many wine experts to be the "country to watch" for the next 10 years as its wine industry continues to grow in prominence and quality. You may notice this as local shops sometimes turn heads by featuring wines from obscure regions of Spain.

One of these is a 2007 "Las Rocas" and is featured at Cost Plus World Market for $9.99. This wine is produced in the Calatayud wine growing region in the Zaragoza province...
Trader Joe's "Petit Reserve" Pinot Noir
At the extreme end of the low cost trend in Pinot Noir wine, is the under $10 market. Most of the time, these are not all that memorable, so when a good one shows up, it's something to talk about. And there are more out there now than ever.

Specifically, Trader Joe's was somehow able to get their hands on an exclusive bottling of Pinot from the Edna Valley region, in California. This is no small feat when you consider that this is the haunt of much more costly wines...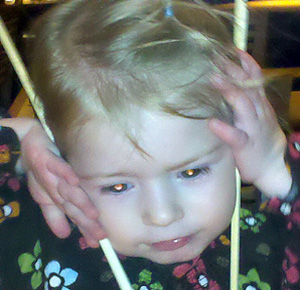 Pairing spicy food: Kung Fu Girl Riesling
Got a big Asian meal planned? Is it going to be Thai or another spicy theme? Want to skip the Mai Tai mix and serve some wine? Then break out the Kung Fu Girl and you're set.

This highly versatile white wine is carefully created by Charles Smith of K Vintners with just enough sweet and sour to counterbalance the savory spice of many Asian dishes. It comes off with a very refreshing tasting experience that goes perfectly with...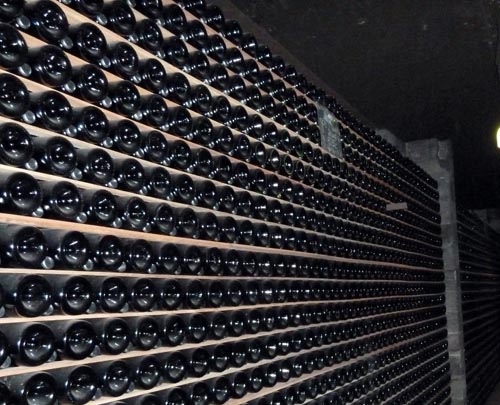 Echoes of the harvest: Aging wines
A favorite pastime for wine collectors is "managing the old stuff". But it's a challenge, because even the best wines reach their peak at different times. Some are wonderful after 4 years and some are perfect after 15 years. And once the wine is purchased, it's the buyer's job to decide when to drink that "liquid asset".

Many wine collectors use the year-end festivities to get off the dime and decide when and where to consume the vino that has been...
Alt white wine: Victor Hugo Viognier
From time to time, the valley is visited by representatives from one of the country's most interesting wine regions, Paso Robles. During these visits we get a lot of personal attention from winery experts who we don't normally get to talk to. And this means inside tips on good wines at great prices.

One of these nicely priced Paso Robles white wines is a 2009 Viognier produced by Victor Hugo Vineyards. It is currently...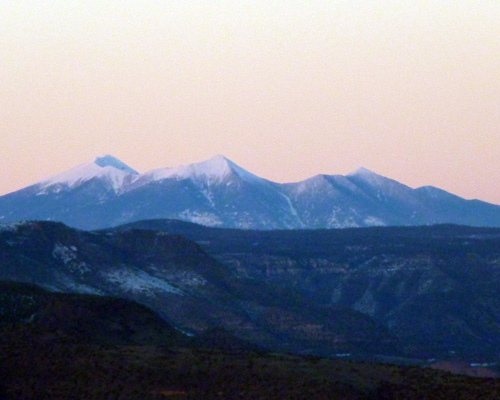 Mountainside wine list: Jerome's Asylum
Feeling a little trapped here in valley and looking for a little high country wine drinking adventure? For a quick weekend of wine enjoyment, look only to the Verde Valley.

Now, in addition to their ever-improving winery tours, there are also restaurants that feature great wine lists, even rivaling those here in Phoenix. Of course Sedona has traditionally filled the bill for fine dining, but Jerome also has its spots and the view back over the Verde Valley...
Wine tour Clarkdale: Verde Canyon Rail
With more vineyards becoming established in the Verde Valley, the Verde Canyon Railroad may have stumbled on a potential hit with tourists who like to drink wine. Taking a cue from the popular "Napa Valley Wine Train", Verde Canyon rail has added more cars with nice tables and featured wines from the Verde Valley on the drinks menu.

By paying a little extra to buy a first class ticket online, you can sit down at a table...
Up from the cellar: Ovation Chardonnay
If you follow the standard cellaring recommendations for white wines, you should have consumed your 2007 Chardonnays one or two years ago. However, when it comes to Chardonnays made in the "Burgundian Style", this does not necessarily apply.

Burgundian syle Chardonnays are produced with limited amounts of Malolactic Fermentation and are more acidic than...
Tuscan ala Paso Robles: Full Boar Red
A fascinating wine from the Paso Robles area of Central California is Eberle Winery's "Full Boar Red". It's blended with the grapes similar to wines that are often referred to as Super Tuscans. This blend includes a healthy percentage of Cabernet Sauvignon along with smaller amounts of Sangiovese, Barbera, Zinfandel, and Tempranillo.

Yep, winemaker Ben Mayo knows how to put together a Super Tuscan that has a lot of character.
A white wine from Midnight Cellars
When it comes to white wines, some of the most interesting are blends made from Rhone Varietal grapes. Producers in Paso Robles noticed this years ago, and combined with an excellent local climate for bold fruit, have been refining their techniques ever since.

Because the grapes that go into a white Rhone blend are not widely cultivated in North America, wines made from them are often only available in limited quantities. This is...
Vigna Franca: Red wine of Central Italy
If you are always on the lookout for a reasonably priced Italian red wine with a little New World flair, an excellent candidate is now available at Total Wine. Many people do not enjoy Italian wines because of their undeserved reputation for a thin body and high acidity, such is not the case with this one.

From an often overlooked area of Italy just West of Rome, wines from Montepulciano d'Abruzzo boast a deep ruby color and...
Clever white blend from Vina Robles
North American winemakers aren't really known for their white wine blends, but there are always pioneers. Namely, Paso Robles producer Vina Robles released one this year that is bound to attract attention from wine drinkers who like flexible food pairing vinos.

Made from both Italian and French Rhone grapes, their White4 is an amazing blend that will certainly fool a lot of wine tasters. Italian and French mixed in one bottle and without a dispute?