Do it again: Yellow Tail's reseal keeps it
While often regarded as entry-level wines, you have to hand it to Australia's Yellow Tail brand to come up with clever packaging ideas. One of these is their re-sealable approach to sparkling wine using a replaceable stopper. It just works.

Equipped with a very durable plastic cap, they have taken a standard Champagne-style bottle and "discarded" the traditional cork in favor of a self-sealing plastic cap. But ...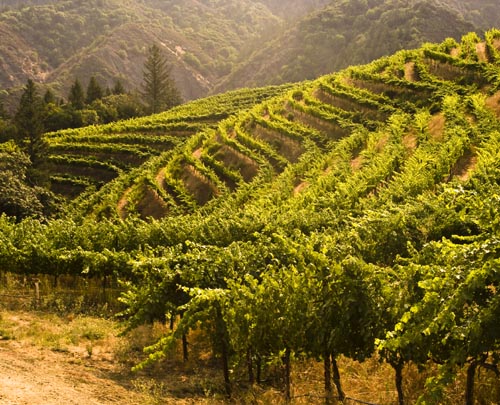 Straight from the hills: Hidden Ridge
A not so closely guarded wine blending secret of California vintners is just where all their fruit comes from. Simply because the bottle says "Napa Valley Red Wine" doesn't always mean that it was made from valley grapes.

In fact, many of these wines contain fruit that was grown high above the valley floor at elevations between 800 and 2000 feet. By mixing even small amounts of these upland...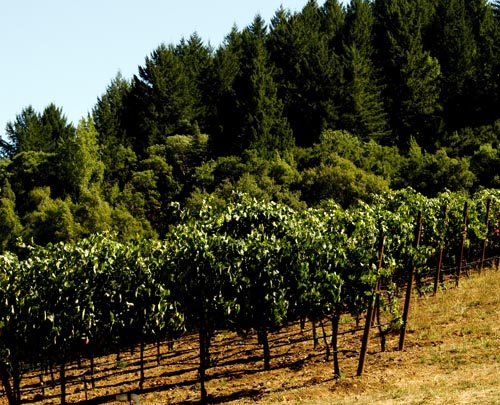 Just peachy: Zins to please the taste
Leaving a lot of great wine (and wine trivia) in their wake, we feel fortunate to have been there for a quick virtual visit to Paso Robles via their Wine Country Alliance. It was a whirlwind journey, but well worth it. And one of the often overlooked wines that they wanted to remind us of is their Zinfandel.

We know that the cultivation of Zinfandel is an American thing. That includes Paso Robles. Even though it's generally...
Yangarra Shiraz: An earthy Aussie
Knowing a local restaurant that has a well-balanced wine list can present an excellent exploring opportunity. If you make yourself familiar with a restaurant's wine list by taking a few minutes to look it over during each visit, it becomes easier to spot changes and try new wines.

Good restaurants know that "changing it up" is one way to keep people coming back. This especially applies to...
Grgich Fume Blanc: Nice wine & price
Napa Valley vintners continue to compete on a worldwide scale buoyed in no small part from the contributions of numerous dedicated wineries. As a result of steady production and a string of good vintages, this year's huge inventory of Sauvignon Blancs continues from 2011. This means good buys are still to be had.

One interesting result of all the inventory build-up comes in the form of price reductions from quality producers who normally sell their wine...
Classic Gold: Alban Viognier
When it comes to "golden wines", very few fill the bill like a Viognier. These beauties often look and taste like honey, melon and pineapple, making them truly golden. But the really excellent ones are not always easy to find, simply because there are not a lot of wineries producing them here in the US. Most of the big producers are in Europe.

Its relative scarcity places Viognier among the lesser-known grape varietals, but in its French "hometown"...
Gamay: The any occasion wine
One often overlooked wine to open up for just about any party is simply called "Gamay". The Gamay grape originated in a part of France's Burgundy region now known as "Beaujolais". Sounds fancy, but its casual, easy-to-drink character allows it to be appreciated by just about every wine lover.

In fact, it is a little like Pinot Noir, but you can skip earthiness and brighten the fruit just a little. The result is a light wine...
A double-trouble big boy: 4 bottles in 1
Sure, there are always double magnums out there, but often they're going to cost you. They contain 3 liters of wine (exactly 4 standard bottles). Not only are they big, but for entertaining, they're fun, especially when filled in Italy.

One of the affordable Italian producers who has exported a good variety of wines and bottle sizes for some time is Bellini. Just when or why they choose to fill some 3L double-magnums and load 'em up for export is anyone's...
Verde River Water to Wine tour
With spring in the wind ever so soon, thoughts of wet and wild adventures return. Now with warmer days and a brighter sun, it is a good idea to consider plans for upcoming fun wine outings around Arizona. The best reason to plan now is that spots for the well-liked trips get booked ahead of time by locals and tourists alike.

One excursion that has been gaining in popularity in recent years is the "Classic Water to Wine Tour" provided by...
High country wine: Don Rodolfo Tannat
When it comes to cultivating grapes at high altitudes, few appellations come closer to the top than Argentina's Cafayate Valley. Perched just under 6,000 feet, this is "up there", even by our Western U.S. standards. With guaranteed to be stressful growing conditions, the grapes produced there have a lot of individual character.

Due to early settlements by European immigrants, the Cafavate Valley has been under cultivation for 100's of years and with some...
Italian Sangiovese: Rosso di Montalcino
If you've been steering clear of Italian Chianti wines because they seem a little too acidic and watered down, you may want to give one of Chianti's neighbors a try, Rosso di Montalcino. Located about 70 miles southwest of Italy's Chianti region,Rosso di Montalcino's Sangiovese wines are definitely bigger.

Most of the difference is said to be due to warmer weather and hillside exposure, but their Sangiovese grapes are also a little...
Transport Shock: Shaken and Stirred
Most of us never give much thought to what happens to a bottle of wine as it rides in a truck rolling on down the road. And most of the time, using modern packaging techniques, those bottles arrive just fine, relieving us from worry. But what about the shake, rattle and roll? Does all that jostling change the wine's flavor?

Naturally there is cause for concern, especially when waiting for pricey wines to arrive from far-away places. So the big question...
2010 is lighter: Sebastopol Hills Pinot
Once again, Trader Joe's continues to support the low cost trend in Pinot Noir wine with another very good under $10 selection. This one comes from California's Sonoma Coast (Russian River), and is not only a fine example of wine from that appellation, but it's also a great value.

Its label indicates that this one is from the Sebastopol Hills area in the Russian River Valley, an excellent locale to find a quality Pinot Noir. Rumor has it that it's...
Wine club perks: Dining at the winery
One of the commonly overlooked benefits of a wine club membership are special winery events. Although many of these seem somewhat costly at first glance, they often include dinner plus multiple flights of very generous wine selections, making them quite a value. Consider this: If you consumed the same selections at a restaurant, the total cost would run a lot more.

In fact, many wine lovers will reminisce about evenings at their favorite winery as...
Wine drinkers: Just chew it
Even as wine increases in popularity with most age groups year after year, it's surprising how many people treat it like a common drink and just quaff it away. Not only is this a waste of money, but by quickly downing a glass of wine (over the teeth and over the gums…), you miss out on the life's experience provided by this time-honored beverage.

In fact, if you really want to tick-off the staff in a wine tasting room, just start...
A big Cabernet for your plans
As we begin to taste as much of California's 2009 vintage as possible, the Cabernets continue to sit right there, front and center. One small winery who has made significant contributions to this excellent vintage is Lail Vineyards. They're small but mighty, sourcing fruit from the heart of Napa to back it up.

With a bouquet that is right in step with others of this vintage, the Lail Blueprint Cabernet is full of currants, licorice and earthy ripe cherries. This big bouquet floats...
Pull a reverse: Spanish wine of Priorat
Located in a Spanish mountainous area of Catalonia, west of Barcelona, the official growing region of "Priorat" is the result of tenacious innovation in winemaking. Thanks to a never-give-up attitude, wines from this ancient growing region are now world class. Given the work that went into registering this appellation as an official "Denominacio", it's a privilege to be able to taste their wines on a budget.

One of their well established...
AZ Stronghold White: Celebrate Arizona
If you're searching out a wine to go with that seafood spread, it's hard to beat our own Arizona blends. Of course, just to make things interesting, Arizona's white blends not only jump all over our state's map, but also all over the taste chart. Their bouquets can be one or a combination or citrusy, flowery, bready, stony, earthy, or downright rainy.

Given all of this, it's surprising that many of the white wines made in Arizona taste quite citrusy when grown in the heat and...
For your next blast: Boom Boom Syrah
It's Syrahs like this that give the Aussies serious competition for the casual red wine of choice. With a good price and easy-to-swallow character, Charles Smith Wines' "Boom Boom" is always a popular choice for quick meals with friends.

And that's just the way Charles Smith wants it. Following true to their motto, "Land to Hand, Vineyard to Bottle", the success of this brand has put them into general distribution right along with Kendall Jackson and Sutter Home...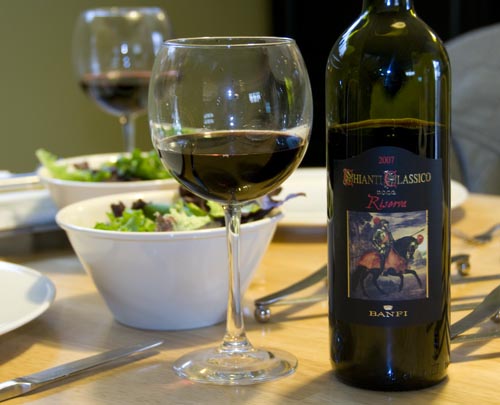 Banfi: Classic wine with a classic label
To many people, a wine is all about the label. Some like labels that feature animals, others like clever graphics, while still others are attracted to pictures of the winery. With great labels featuring a variety of historical scenes, and brand recognition that is second to none, the American importer Banfi always seems to get a place at the table!

One of these "favorite labeling" traditions, is their Chianti Classico Riserva. Now with...