King Estate: An all-around Pinot Noir
When an Oregon Pinot is good, it's really good. Although many of these demand a price, there are some examples that provide much of the bang without having the shell out the big bucks. One of these is the ever-consistent King Estate Pinot Noir.

This excellent Pinot Noir is part of King Estate's Signature Collection. With reliable Wine Spectator ratings in the high 80's and 90's, this one is a buy...
Silver Palm: Cabernet's lighter side
Most of the time, the Oenophile topic "About Our Winemaker" is a quickly discussed sidebar before moving on with a tour or tasting. But every year it seems that more and more new faces are getting into the art of wine. So it comes as no surprise that many of us now look at wineries with new young ideas as a big plus.

With a strong background in winemaking that goes back to the early 90's, Silver Palm winery's Matt Smith is an innovative artisan who...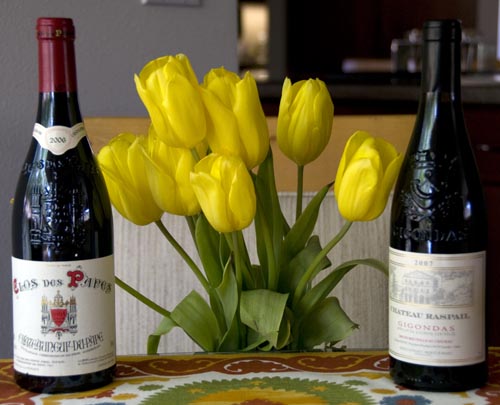 So. France: Solving difficult pairings
Ham and other cured meats are notoriously difficult wine pairing entrees. This is not only because of their saltiness, but also because of their baked-in smoky flavors. These powerful essences easily overpower nearly all white wines and many reds as well.

So when you've got ham (or other smoked entrée) in the oven and filling the room with aromas before your next feast, what about the wine?...
Grenache: Southern Rhone's utility grape
As long as we're on the subject, we might as well continue in the Rhone Valley a little more with a visit to a newly established appellation, Vacqueyras. Using blends that are dominated by the Grenache grape, wines from here represent some of the best values that Rhone has to offer.

For those who enjoy wine blends that are mostly Grenache, their impressions usually center around how easy...
Up from the cellar: Frog's Leap Cabernet
Nearly every wine lover has at least sampled some Napa Valley Frog's Leap Cab. In the beginning, this wine was only sold to restaurants. But about 9 or so years ago, all that changed. Now, due to increased production or some other factor, it can be purchased in nearly every retail outlet.

Sure they still have their top of the line "Rutherford" in limited distribution. However, Froggy's basic Cabernet Sauvignon, is...
Chili companion: Clos Du Bois Cabernet
There are few things that go as well with a big bowl of Chili Con Carne like a glass of red wine. And luckily, there are many excellent recent vintages of Chili-pairing red wines from which to choose, with a meaty Cabernet at the top of nearly everyone's list.

Of course, there is a disclaimer here regarding really hot Chili recipes. Once they start "torching out" like Uncle Jerry's Texas Chili, all bets are off for the red wine. But for...
Calera: Stop once, get a lot of Pinot
In 1976 Josh Jensen came up with enough cash and bank loans to plant 24 acres of Pinot Noir and start a winery simply known today as the Calera Wine Company. He relied on his experience in the art of French winemaking to pick out a property rich in limestone soil layers, considered in Europe to be an essential component for a successful vineyard. Today, his efforts are paying off.

With a wine lineup that includes over a dozen labeled variations, Calera has taken...
Party stock up: Crème de Lys Chard
Running sales on Chardonnay seems to be a summer pastime for many of our fine wine retailers here in the valley. It's too bad that most Chardonnays don't age in the home cellar long enough to allow a really serious stock-up when prices dip. But being able to get a discounted batch for a party is nearly as good a plan, so why not?

As the most popular white wine, Chardonnay has become a summer party essential...
Le burger wine: Le Lapin red blend
When it comes to choosing wines to go along with a batch of burgers, it's actually quite challenging to get any of the "standards" to work. What happens is most people pile so many condiments on their burger that what started out as a simple beef and bread entrée morphs into a sliding, "What the @$?"

At any rate, most red wines, other than a few really zapped out on-the-edge Zinfandels, are just "lost in the noise" of most burger...
Working w/spicy seafood: Pinot Project
If you ask for a wine that will go with seafood, most of the time you'll be guided over to a white wine. But once the seafood becomes a little oily or spicy, a Pinot Noir often works much better.

This is especially true when the Pinot has certain flavor characteristics that many people describe as having a "spicy bite". These Pinots are often hard to find when you're looking for them, so it's a good idea to take note when you run across a Pinot with a little spice in its finish...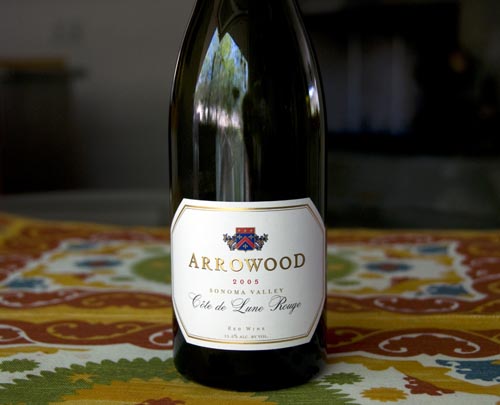 Grape taste: Fabulous Rhone blends
Looking for a theme for your next wine tasting party? Don't overlook the Rhone Blends. Most wine experts agree some of the most intriguing wine tasting comparisons feature wines containing those incredible Rhone grape varietals.

And because Rhone blends are very palatable to a wide range of wine drinkers, it's easy to organize an "RB" tasting to share the differences in these wines...
A Chardonnay classic: Wente Riva Ranch
Did you ever sample a wine that either has a familiar label or taste but you just can't place it? Nearly everyone can relate to that one. Especially if someone asks, "Have we had this stuff sometime before?" And with all that wine out there, this comes as no surprise. That's just what happened during a recent tasting in Ahwatukee Foothills.

The wine was Wente Vineyards' 2010 "Riva Ranch" Chardonnay, with both a familiar label and taste, it made it worth a better look...
Where to buy Alcantara Wines in Phoenix
Unless you're geared up for a road trip to parts North or South, it is often a chore to get our own Arizona wines back down here in the valley. Recently, many have asked how to get Alcantara wines without having to join their wine club or taking a ride on the I-17.

Being as accommodating as ever, Alcantara recently published a list of local wine outlets that stock a selection of their wines. This is great news for those of us...
Famous Rhone wine at a discount
The 2009 vintage in the Rhone Valley of Southern France was another excellent one with a lot of August heat to push the ripening process right along. The yields may have been down bit but the wines are big; that's sure to excite North American wine drinkers.

One of the first samples of a Rhone red from the 2009 vintage showed up recently here in Phoenix at Costco of all places. How did they get it so fast? It was expedited through their...
Chasing Venus: Pairing hors d'oeuvres
New Zealand's Sauvignon Blancs continue to shine on. So much in fact, that for people who love their seafood appetizers, there is no better wine pair. Keep this in mind if you're planning to feature seafood before and during an upcoming celebration, and be sure to include one of these libations along with the platter.

Showing off New Zealand's Marlborough region's Sauvignon Blanc's minerally sharp citrus flavors, with a lead-in of pineapple and...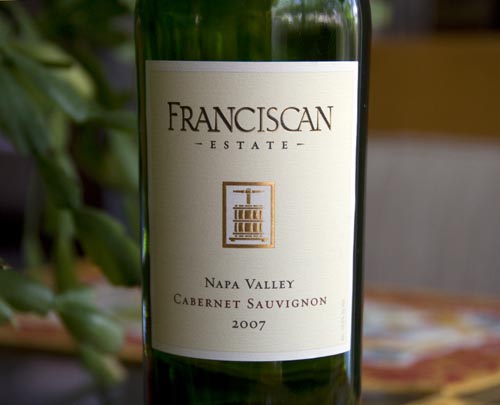 Walk by the wine display: Not this time
Admittedly, most wine snobs don't pick up random wine bottles that are scattered around in grocery store displays, of all places! Rather, they prefer to browse shelves loaded with thousands of bottles, then making selections only after very careful consideration.

But every so often there comes a little slap-in-the-face. After falling in love with a well-priced wine list selection at a nice restaurant, it appears at the grocery wine display near the...
Seven grapes, baby: 7 Daughters red
Some would say that if you've got 7 daughters, you deserve a glass of wine! But when it comes to blending a lot of grapes, 7 daughters takes on an entirely new meaning. How about this: "A casual wine from all over the place."

Nope, for this one, it's simply "Seven Daughters", with no vintage listed. As for the grapes? Check this out from one of their batches...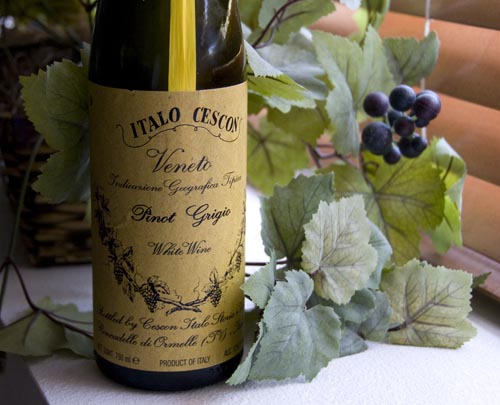 Wine with luncheon: Italian Pinot Grigio
If you like a big glass of iced tea plus a squeezed-in lemon wedge with lunch, this Italian vino may suit your style. Pinot Grigio has been the Italian choice of wine to chase down a mid-day repast seemingly forever and they know just how to create them to pair perfectly.

Granted, when compared to wines that we have grown accustomed to enjoying with dinner, Italian Pinot Grigios can seem a bit watered down, but with light lunch fare...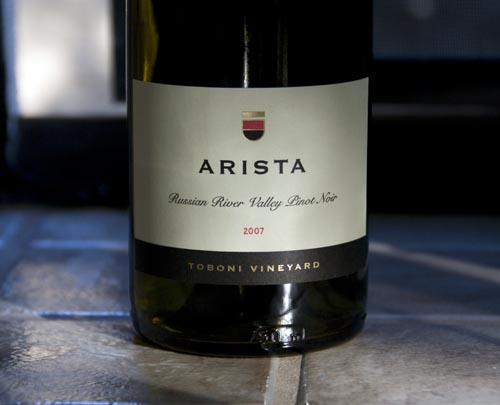 Up from the cellar: Arista '07 Pinot Noir
One of the best things about touring and sampling at small wineries is the surprise you receive when tasting them again back at home, after a spell in the cellar. Sometimes the memory is fresh and the taste is right on as remembered, and other times there is no recollection at all. It's a complete surprise.

And if you're lucky, a "wine revisited" turns out to be very much better than that initial impression at the winery's tasting bar. So far...
Big wine: Brunello strikes again
Imagine washing down a big plate of lasagna with an Italian red wine that really stands up to all that cheese and sauce. You may just have dreamed up a Brunello di Montalcino.

And these wines don't mess around. What makes them so perfect, is that they are quite suited to our North American tastes, especially when it comes to pairing them with hearty pastas...